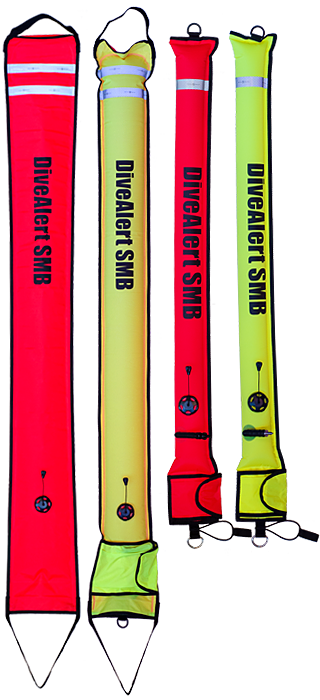 Don't wait until you need it to understand WHY you need it!
The Surface Market Buoy (SMB) should be in with you on every dive. Have you ever surfaced from a dive, only to realize your dive boat is so far away that they probably cannot see you? This situation could lead to stress and even panic.

Deploying the DiveAlert SMB will make your more visible in the water. The intense orange and/or yellow is clearly visible to passing boats, so the use of an SMB may also reduce your risk of being struck by a boat while waiting to get picked up. This also applies while you are just beneath the surface, especially while doing your safety stop.
All DiveAlert SMBs feature:
Over-Pressure Valve (OPV) so you can't over-inflate it
Easy air dumping
The nylon strap or ring on the top allows for attachment of a light or slate.
400 Denier polyurethane coated nylon
Coast Guard approved Solas reflective tape
A vivid, visible incidator of where you are
DiveAlert offers three models of the SMB: